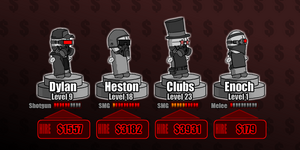 Squadmates are NPC's that can be hired to assist the player in Arena Combat, both standard and zombie modes. They can be very useful if properly equipped. The player can equip their squadmates with weapons and armor, but you are unable to change the armor of the special squadmates (see below). Mercenaries costs can range as low as $100, and reaching costs of as much as $4,500. At the 'Hire Merc' screen, the name of the mercenary, level, and primary skill will be displayed. After being hired, mercenaries will become the player's squadmates and have the capability to level up based on the number of kills they get. The player has no control over which stats get raised.
The player decides when/which squadmates to bring into waves. They can also be equipped with weapons and armor but some are unique and cannot. During a wave, squadmates will be signified with a green belt. If they die, they will be removed from the player's roster. There is no limit to how many mercenaries can be hired, but the player can only use up to 6 squadmates in a single wave with maximum Leadership.
Squadmate stats are randomly chosen, as well as their names and gear. This means that after a squadmate dies, the stats will be different if rehired. However, the level that unique squadmates are hired at is fixed. For example, Hank may be at level thirty but his stats can be almost maxed out.
Squadmates arrange their stats upon leveling up based on the player's behavior. For example, if the player dashes and dodges a lot, squadmates will add to their dexterity; if bullet time is used a lot, squadmates will add to their awareness; if pistols are used a lot, squadmate will add to their pistol skill. Squadmates also tend to add to their primary skill. However, squadmates will act the same regardless of their stats.
A glitch occurs in which squadmates can sometimes get stuck in Arena Mode. One scenario is when they do the walking animation but don't move. Another version is when they stay still and constantly switch weapons. This happens if they have a melee weapon and a ranged weapon and enemies constantly go in and out of their melee range.
There are several special mercenaries that can be hired. Many of them have stats higher than that of other mercenaries and the player in relationship to level. Below is a list of special mercenaries and their hiring levels:
Names
Here is a list that lists possible names for non unique hirelings:
Kurt
Stu
Willy
Geeves
Bateman
James
Axel
Bruno
Caleb
Dale
Tucker
Felix
Fabian
Grant
Hal
Ives
Jarvis
T.J.
Nash
Gavyn
Don
Brooks
Bronson
Heston
Charleton
Clint
Eastwood
Jordan
Duane
Jacob
Stamper
Fulp
Bandelin
Tanner
Brick
Scooter
Roland
Blade
Logan
Xavier
Po
Thor
Odin
Loki
Zeus
Gil
Hermes
Hercules
Hades
Apollo
Frenchie
Aurelius
Zeke
Yale
Wade
Vincent
Vance
Uistean
Thorpe
Shawn
Biddle
Johanson
Francis
Drake
Raleigh
Quade
Pedro
Oliver
Neal
Manuel
Landon
Keegan
Butch
Buck
Kane
Jasper
Smalls
Ponyboy
Godzilla
Sailor
Charles
Mabutu
Chumbo
Ching
Mr.Beautiful
Johnny
Sticky
Duncan
Malcolm
Malone
Professor
Coach
Ellis
Leonardo
Michelangelo
Donatello
Raphael
Oney
O'Neal
Leon
Norton
Jacob
Fletcher
Grisham
Graham
Harold
Watson
Holmes
Blake
Cartiff
Ulysses
Marty
Lloyd
Emmett
Tiernan
Tiberius
Thadeus
Max
Holden
Hayden
Hadrian
Claus
Claudius
Caesar
Fernando
Gooseman
Hernando
Wheeler
Ma-Ti
Kwame
Captain
Lee
Lucky
King
Spades
Diamonds
Clubs
Swords
Hearts
Cadet
Niko
Roman
Brutus
Sparticus
Clayton
Kleeton
Cleetus
Aden
Abram
Lee
Colby
Maynard
Jonesy
Chauncey
Jack
Harvey
Hugh
Tobias
Phoenix
Simon
Alucard
Alistar
Edgar
Edwin
Reuben
Jonas
Dylan
Kai
Nigel
Percy
Bruce
Alfie
Gordon
Lebowski
Walter
Donnie
Frank
Leo
Deadeye
Skittles
Mr. E
Arnold
Chuck
Sly
Statham
Jet
Dirk
Matches
Sandman
Quintus
Ryu
Moe
Curly
Shemp
Shep
Larry
Ricky
Addison
Adonis
Ajay
Ari
Cale
Carlo
Castle
Dalvin
Ethan
Eli
Ezekiel
Fox
Snake
Wolf
Garett
Gideon
Rocco
Judah
Mick
Sylas
Jan
Lionel
Sabin
Setzer
Spencer
Waylon
Wyatt
Victor
Malakai
Fingers
8-Ball
Swastiko
Tyrone
Filburt
Fanny
Crowley
Grantham
Winston
Enoch
Nucky
Priest
Brains
Sponge
Doc
Rocky
Woody
Chubs
Snickers
Pepsi
Bennet
Mordecai
Percival
Samson
Terrance
Curtis
Johan
Marcus
Kenton
Bond
Ashton
Shepard
Rex
Tony
Ramsay
Darius
Xerxes
Chief
Ivan
Drago
Drachen
Vlad
Joachim
Adolf
Heinrich
Lungren
Dolf
Rolf
Poopoo
Peepee
Rigby
Heisenberg
Pinkman
Gus
Gayle
Conner
Marston
Jose
Dom
Micky
Donald
Church
Churchill
Gaylord
Trivia
According to The-Swain, Blockhead was one of the first characters added during the testing phase of the game. He was originally intended to be a character that could not die. [1]
Quite commonly, Squadmates can be recruited with gear they can't usually wear, once the armor is unequipped, the Squadmate cannot re-equip it, unless his endurance skill is increased.
Community content is available under
CC-BY-SA
unless otherwise noted.